Eyelash Extensions or Mascara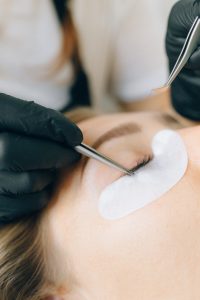 If you have recently applied eyelash extensions, you may be wondering: Which mascara is better for mascara with eyelash extensions? Before you make your decision, you should learn about the different types of mascara available. Not only will you discover the best ones for your specific lashes, but you will also learn which one will work best with which kind of extension. If you have ever wondered which one is better, read on for some helpful advice. Alternatively, read our article to find out the benefits of both products.
Both eyelash extensions and mascara are great ways to enhance your eyes and your overall look. Mascara is a popular beauty product that thickens, lengthens, and darkens the lashes. It is applied with a brush. However, it can contain some ingredients that have been linked to long-term health issues. On the other hand, lash extensions are applied with a glue that is hand-glued to the natural lashes. They can look both natural and fake.
Although eyelash extensions adhere to the natural lashes, you need to choose a makeup product that will not damage the glue used to attach them to the natural lashes. Mascaras with oil-based ingredients can damage the glue and loosen your extensions. Choose oil-free and water-based formulas. If you are using eyelash extensions, you should avoid applying mascara that contains silicone or mineral oil. Additional info
When choosing between mascara and eyelash extensions, consider how your lashes will look after the extensions are applied. Since they are attached to your natural lashes, they will need regular maintenance. Although they can be removed easily, they are not completely pain-free. Getting them professionally applied by a qualified technician is the best way to avoid damaging your natural lashes. After applying eyelash extensions, it is important to avoid sweat, hot tubs, and other activities that can cause the glue to swell or pull out.
Which type of eyelash extension is better? When choosing between mascara and eyelash extensions, ask your lash technician what look you want to achieve. She will take the shape of your eyes, the angle of your eyelids, and the thickness of your natural lashes into consideration before recommending a specific length and curl strength. Make sure to choose an extension that is three to five millimeters longer than your natural lashes and that is approximately the same thickness as your natural lashes.
Which type of mascara is best for eyelash extension applications? There are several factors to consider. Generally, it is best to use water-based mascaras to protect your extensions from oil. Avoid mascaras with turpentine oil or sesame oil. Standard coconut oil is also fine. Ensure the packaging of your mascara contains clear and simple instructions. For best results, follow these instructions. Browse around this site
If you have sensitive skin or lashes, use an oil-free or water-based formula. Water-based products usually contain less chemical than oil-based formulas. They are gentle on the eye and are safer to apply to eyelashes. Water-based formulas also work better with eyelash extensions because they are pH-neutral. Water-based products are also more prone to contain fewer harmful ingredients.